Problems With the Scribd iPhone App as an Audiobook Player
Paul Brown • May 11, 2015 12:44 AM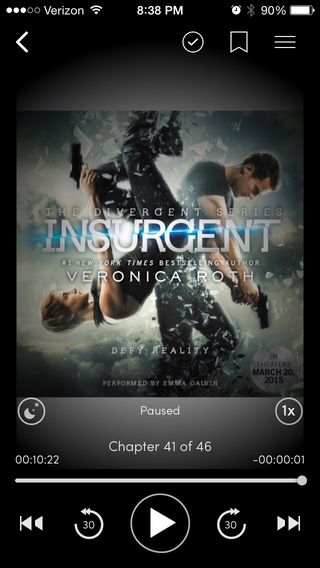 I have a moderate commute (moderate for Atlanta standards), so I listen to a lot of podcasts and audiobooks. I found out recently that Scribd offers a fairly large selection of audiobooks for a reasonable price, so I signed up for a trial to give it a shot. The user experience with this app has been so bad that I felt compelled to write up a list of its shortcomings here. Hopefully they can continue to improve this app as time goes on, but for now these reasons are keeping me from continuing my trial into a paid membership.
Don't leave your wifi's range before the audiobook is finished downloading. I did this and when I paused, it wouldn't restart because the file wasn't locally available
The touch target for the audio scrubber must be tiny. I haven't run this thing through a jailbroken phone and a view debugger to see the exact pixels (I think that's possible), but it is almost impossible to get it the first five tries.
Several times the app has been playing along and suddenly skipped to the next chapter. Then you have to go back to the previous chapter and use the impossible scrubber to find where you were.
The app cannot reliably remember where you are in an audiobook. Many times I have hit play at the start of my morning commute and found mself listening to the last chapter I listened to.
A couple of times I have reached the end of a chapter and the audiobook paused. Sometimes it will start back on its merry way once I launch the app, and sometimes I have to hit play to get it to continue playing.
I know writing apps is not easy, but to me it looks like the problems with this app could be fixed with a couple months of solid iOS development time. Scribd has a good foundation built, and a rock solid iOS experience could really provide a good option in the audiobook subscription marketplace.
Side-note: Insurgent is kind of boring.
UPDATE (Aug 30, 2015) - I submitted this post to Scribd in a support ticket, and they admitted problems and told me they were working on the problems. I received another response when version 3.11 was released, and they very generously gave me some extra time on my account for free. I listened to another 1.5 books these last few weeks, and I will say that the experience is much better! However, there are still problems:
The app cannot remember what playback speed you are using between sessions
On several occasions, I would reach the end of a chapter and playback would just stop. This is infuriating when you're driving down the interstate.