Owen's Super PID
Author Name • July 15, 2017 08:48 PM
Our son Owen has a blood disorder called thalassemia. One thing this means is that he must be on a chelator drug to help his body get rid of iron. He is on Desferal, which is administered via a subcutaneous injection pump. My wife is active on several thalassemia Facebook groups, and there is much discussion regarding Desferal pumps. We quickly came to understand that if our home health services provider did not provide the Intrapump Crono Super PID pump, we needed to do whatever it took to get that pump.
In our initial conversations with CHOA, we immediately requested the Crono pump. CHOA was quick to explain that they didn't deal with pumps, and the home health service provider dictated which pump was available. Coram Healthcare was the home health service they were going to pair us with. When I talked to our Coram nurse manager, she said she had never even heard of the Crono pump. So I called Intrapump on March 1st to see what they would say.
The person I talked to at Intrapump was Robin McDowell, and she was incredibly nice and helpful. She said they definitely sold their pump to Coram Healthcare, and in fact she had worked with someone at Coram and had recently filled an order for the Crono Super PID for a Coram patient, but this patient had been in a different region.
On March 6th, I talked to a nurse at CHOA and she said Coram was getting more info about the Crono pump. In the meantime, Owen's doctor wanted to start him on Desferal, so we had to start using the Graseby MS16A pump that Coram offered. As I made my case for the Crono pump, the nurse encouraged me to keep pushing the issue in whatever way I can. Let me show you the comparison of the two pumps. I like to describe them in terms of one looks kinda like an original 1980s Nintendo controller and the other looks like it was designed in Sweden last year.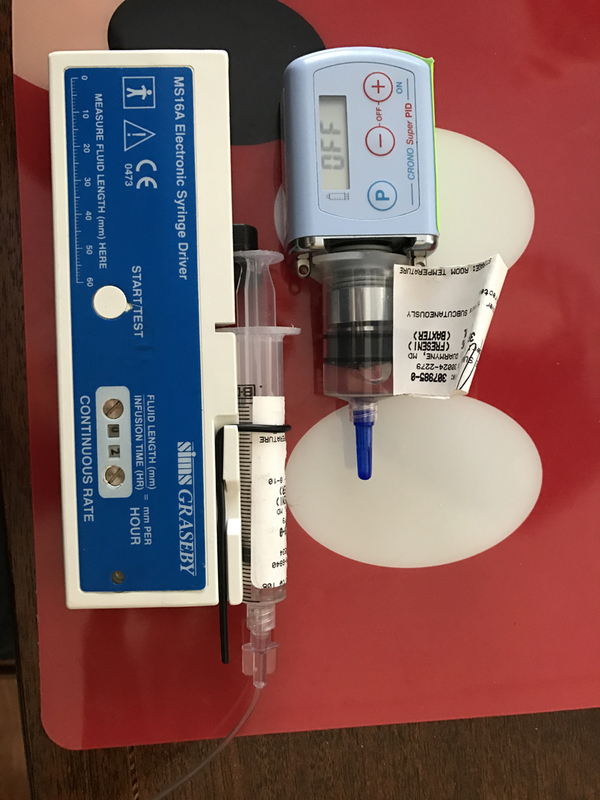 I asked Robin to get in touch with Coram and try to push the issue down specifically to the Atlanta branch. She was more than happy to do this, and she also said they had the pump in stock and could ship it immediately upon receiving an order from Coram.
The Coram nurse manager called and said they were scheduling a nurse to visit our house on March 9 to train us on the Graseby. She also said they had a Crono pump, but "all nurses had to be trained on it before it could be used". She had no idea when this training would happen and couldn't even venture a guess as to when it might happen. I felt like she was just telling me this to silence my efforts.
On March 14th, Robin emailed to say she had heard from her contact at Coram that "they have the Crono pump and patient will be starting any day". And later that day, she contacted me again and said that Coram had the prescription and were scheduling a training call with Intrapump the following day. Things were moving fast!
On March 22nd, the nurse came back to our house, Crono Super PID in hand, to "train" us on how to use it. She clearly had never touched one of these things before, but it had been set up for our needs and was ridiculously easy to use, especially compared to the Graseby.
Final Thoughts
I'm no expert on infusion pumps, but I think I agree with what we were told on the Facebook groups. If you're using one of these pumps and it's not the Crono Super PID, you should make every effort to get one. It might take a lot of work and frustration, but maybe our story can help you navigate the process and give you an example to follow, especially if you are a CHOA patient whose home health provider is Coram.
The real hero of this story is Robin McDowell at Intrapump. She was the key to success for our family, so definitely get in touch with Intrapump if you need more info.